All Your Drinking Horn Problems Solved

Travelling the world with our drinking horn store means we get the chance to speak personally with buyers. We've added some of the most common questions we get asked here.
I live in United States. Can I still buy your horns?
Yes you can. We ship all over the world, including United States.
Where can I buy your Drinking Horns?

Right here on the site, or at one of the dozens of concerts, festivals and shows we're at every year. Check out our Horns on the Road page to see where we'll be in 2013, or visit our online store here.
Are they? Like are they made of actual horn?
Yes they are. We leave the actual manufacture of our horns to free ranging cattle from the UK. All we do is cut and polish them, make them watertight and sell them. (Every horn you buy from us will have had one previous owner, a happy cow somewhere in the north of England)
How long does a drinking horn last?
With a little loving care our horns will give you many years of faithful service. We guarantee each one for 2 years, and if you're not entirely happy with your purchase we'll be happy to give you a full refund.

What can I use my drinking horn for?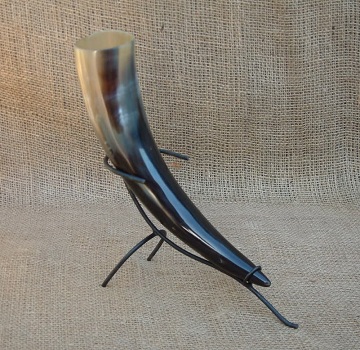 Drinking of course! And because we use a superior quality, food grade seal on our drinking horns, you can use them for any drink, alcoholic or otherwise. Even neat spirits like vodka, brandy and whiskey!
Is it safe to drink from our horns?
Yes it is and, all our drinking horns are perfectly safe to use just like a normal mug, cup or cup. Each one has been varnished on the outside and sealed with a resilient watertight finish on the inside.
Our drinking horns are 100% safe
(Actually, we'd like to say that over the years we've perfected our technique and we're convinced our horns are now the best finished and longest lasting products on the market, but maybe that's boasting)
How do I care for my horn?

Caring for your horn is simple. Because we use a highly resilient watertight seal you can treat our horns like any other cup or glass. Wash with warm soapy water and rinse well after use.
Where do you ship to?
The Viking Drinking Horn Store ships worldwide, including United States.
We post on the next working day after we receive your payment and delivery usually takes no longer than 5 working days wherever you are. A lot less to the UK and mainland Europe.
What colours do you have?
In short we offer 3 choices – Light Dark and Mixed.

But in reality every drinking horn is a one-off work of art. Each one is completely unique, taken from a free ranging cow and no two are the same. The same goes for colour and our drinking horns come in a variety of different natural shades.
We offer you the chance to specify exactly what colour of horn you want, just let us know in the box on the order form.
Does a Viking Drinking Horn taste funny?
No they taste of absolutely nothing except what you put in them. We spend a lot of time cleaning and sealing each horn we produce, which means they never have that nasty horn after taste, you'll often find in inferior products.
* Be warned, some companies dont take the time and care that we do at the workshop, and cheaper horns can often disappoint. Believe us, we've been in the business for years and heard some real horror stories.

What makes us so different?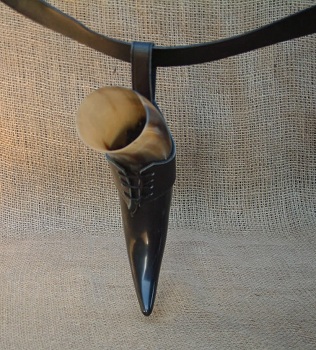 Well, for a start we've been in business for over five years so we really know what we're doing when it comes to selling you a fine, and supremely fit for service horn. And because we have a real store with lots of regular customers, including film companies, re-enactment groups and festival goers, we get the chance to learn exactly what's important in a horn.
Using feedback from our clients mean we're constantly improving our techniques and we're sure our products are the best available anywhere.
Do you have the ones with decoration?
Yes we do. Starting in early 2013 we're introducing a range of hand made metalwork. Stay tuned for more details.
Do you only sell drinking horns?
No, we've also introduced a new range of horn cups, goblets and tableware. Check them all out here.
Why don't you have more colour choices?
All our horns come from free ranging cattle herds in the UK. As such we don't have much control on the colour. Let us know if you'd prefer your horn light, dark or mixed and we'll make sure to get the match right.

Looking for a drinking horn? Check out the store here