All Your Drinking Horn Questions Answered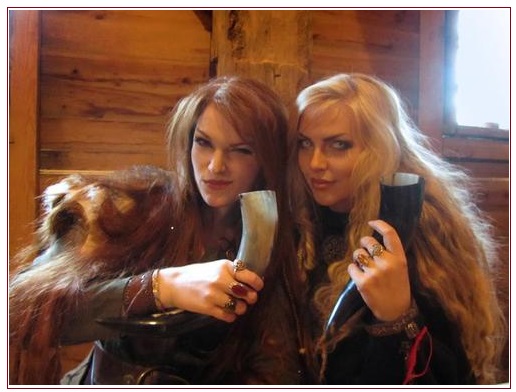 Travelling the world with our mobile drinking horn store means we get the chance to speak personally with our buyers.
The feedback really helps us come up with new ideas, like our goblets, bowls and tableware, but it also helps us learn what works, what doesn't and how we can improve.
Anyway, we've added some of the most common questions we get asked at the store, on this page.
a
I live in United Kingdom, can I buy from this site?
Yes you can. We ship all over the world, including United Kingdom.
Are they Real? Are they made of actual animal?
Yes they are real cow horns mostly sourced from African and Indian cattle.
(Every horn you buy from us will have had one previous owner, a happy cow)
Where can I buy a Drinking Horn?
Right here on the site, or at one of the dozens of concerts, festivals and shows we're at every year. visit our online store.
How do I clean the horns?
The horns can be washed with warm soapy water, we also find a bottle brush is useful to clean right inside.
How long do they last?
With a little loving care our horns will give you many years of faithful service. We guarantee each one for 2 years, and if you're not entirely happy with your purchase we'll be happy to give you a full refund.
Is there any cruelty involved in sourcing the horns?
The horns are a bi-product of the meat industry and so are removed once the animal is dead. This is a sustainable form of recycling and no cruelty is involved.
What can I use a horn for?
Drinking is the main use of our horns, but because they are such a unique product and no two are alike they also make really beautiful ornaments for around the house or Hornaments! as we prefer to say.
Is it safe to drink from the horns?
Yes it is and, all our Drinking Horns are perfectly safe to use just like a normal mug, or cup. Each one has been polished on the outside and sealed with a resilient watertight finish on the inside*.
Where do you ship to?
The Viking Drinking Horn Store ships worldwide, including United Kingdom.
We post on the next working day after we receive your payment and delivery usually takes no longer than 5 working days wherever you are. A lot less to the UK and mainland Europe.
What colours do you have?
In short we offer 3 choices – Light Dark and Mixed.
But in reality every drinking horn is a unique beautiful piece of natural art , taken from a free ranging cow and no two are the same.
We offer you the chance to specify exactly what colour of horn you want, just let us know in the box on the order form.
What sizes do they come in?
We're very proud to say we offer the widest selection of sizes anywhere, and our horns are available in 6 different sizes, ranging from 100 ml to 2 litres.
Whether you're drinking mead, beer or virgin's blood, we think we've got size covered.

* Be warned, some companies sell horns without any treatment inside, and this leaves a nasty taste in the mouth in every sense!

Do you only sell drinking horns?
No, we've also introduced a new range of horn cups, goblets and tableware. Check them all out here.